This week – I'm taking a bit of a vacation.  I'm taking 3 littles and 1 big person to the beach.  And… I'm so excited!  Keep checking in on Facebook and Instagram (alsfm) for pictures from the beach, because if you follow me on Pinterest you will know that I have an obsession with my iphone. A serious obsession.  Anyway…
Last year when we went to the beach, I blogged the entire time.  This year, I'm trying to find a better balance between work and play.  In an effort to do that, I amazing guest bloggers posting for me this week. 
*****************************
The first one is Jenn from The Crippled Girl.  If you don't already know Jenn, I should tell you that her blog name is probably the most misleading name I've ever seen.  That girl moves mountains.  Like.. literally.  I've met her in person and she is … amazing. She is outgoing, funny, sometimes crass, always sweet.  She will be the first person with a hug and the first person with a dirty joke. And it is this hilarious combination that makes her endearing to people all over the internet.  After you read her here – head over to her place and fall in love with her frank talk of life with infertility, disability, a big mouth
and a bigger heart.
And I'm over the MOON proud that she is sharing her insight here – with us.  Warning. You might laugh.
**************************************************
Blogging has given me a lot of blessings in my life: a reason to write, an outlet for my voice, innumerable laughs and amazing friendships, and most recently, a part time job in social media. For the past couple of months, I've been helping a small fashion/shopping business improve engagement on their social media platforms. It's been a fantastic opportunity and I've really learned a lot. Mostly, I've learned that I know absolutely nothing about fashion. Seriously? I live in sweatpants and tank tops, year round. It's a good day if I brush my hair before noon. But like any good student of the interwebz, I was determined to fake it till I made it. And you know what? I've actually learned enough that, if I ever get out of sweatpants, I could pull together a pretty awesome wardrobe. Here's what I've learned along the way:
1. Trends are for teenage girls. Style is for women.
Her father was part peacock.
2. When in doubt, keep it classy.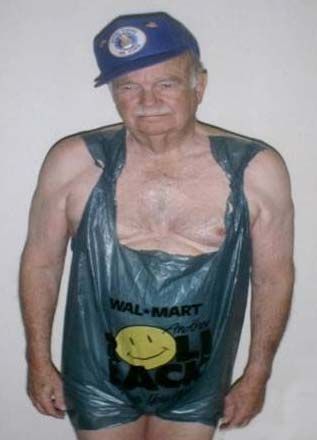 Well, this is one way to recycle plastic bags . . .
  3. Finding a happy balance between the outfit that makes you feel fantastic and sticker shock is Utopia.
4. Trust your gut: If you love a look, don't be afraid to rock it. Who cares what anyone else thinks?
Before Gaga's meat dress was a bad thought, Bjork was wearing a swan.
Make sure you go check out Jenn at her place – Crippledgirl.com
Follow her on Twitter:  Twitter, 
Or check her out on Facebook,
And don't forget to leave her a comment or 3 here so she can know some love.  What was your biggest "fashion disaster?" or your biggest "fashion risk" or … Just something you want to know about Jenn?